Due to new Safety Measures, a face mask or covering is required to enter this store for your safety, the safety of other customers and our staff.
Guitar Center Denton
10:00 AM
-
9:00 PM
10:00 AM
-
9:00 PM
10:00 AM
-
9:00 PM
10:00 AM
-
9:00 PM
10:00 AM
-
9:00 PM
10:00 AM
-
9:00 PM
11:00 AM
-
7:00 PM
Contact:
Email Us
Store Hours
Store Hours:
Day of the Week
Hours
Monday

10:00 AM

-

9:00 PM

Tuesday

10:00 AM

-

9:00 PM

Wednesday

10:00 AM

-

9:00 PM

Thursday

10:00 AM

-

9:00 PM

Friday

10:00 AM

-

9:00 PM

Saturday

10:00 AM

-

9:00 PM

Sunday

11:00 AM

-

7:00 PM
Contactless Curbside Pickup Available
In-Store Promotions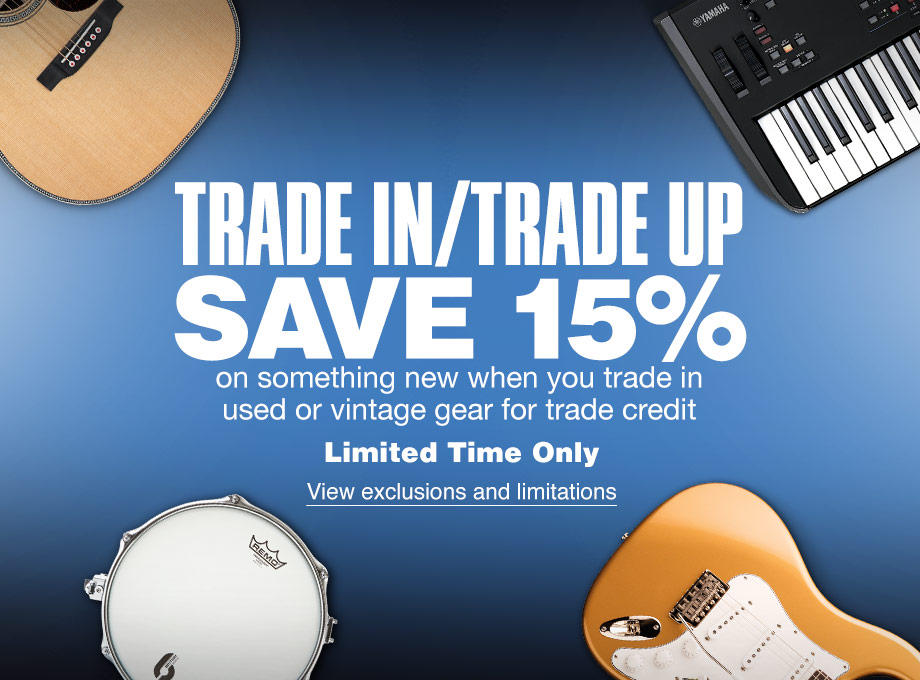 Trade-In/Trade-Up (Dallas Metroplex Exclusive)
Starting 3/19, save 15% on something new when you trade in your used or vintage gear for trade credit. See terms & conditions below.

Non-qualifying Items for Trade In:
Acoustic Pianos, Custom-Built Cables or Snakes, Copyrighted Material (Software, Books, Videos and DVDs), Computers and Consumer Electronics, Snakes and Switching Systems, Analog Tape Recorders, Wireless Units, Guitar Parts, Strings, Drum Sticks and Drum Heads, Upright Acoustic Basses, Large Recording and Live Sound Mixers, Studio Furniture, Lighting Gear, Drum Hardware (low-end), Turntables (other than Technics), Stand-Alone Digital Hard Disk Recorders, DAT and CD Recorders, Band and Orchestra Instruments

Exclusions and limitations for discount offer:
Not to be used in conjunction with other coupons, promotions or offers. No cash value. Excludes already discounted and clearance items, price matches, used/vintage, tax/shipping charges, scratch and dent, gift cards and musician services (Pro Coverage, Repairs, Rentals and Lessons).

Products from the following manufacturers are excluded from discount offer:
A Designs, ADAM, ADAM Audio, Aguilar, Allen & Heath, Alvarez, Ampeg, Antelope Audio, Apogee, Apple, Arturia, Ashdown, Ashly Audio, Avantone, Avid, BAE, Barefoot Sound, Beetronics FX, Blackstar, Bose, Boss, Burl Audio, Caparison Guitars, Catalinbread, Chapman, Crate, Cusack Music, D'Angelico, D.W. Fearn, Dangerous Music, Dean Markley, Deering, Duesenberg USA, Earthquaker Devices, Earthworks, Electro-Harmonix, Elysia, Empress Effects, Epiphone, Ernie Ball Music Man, EVH, Fender, Fender Custom Shop, FOCAL, Focusrite, Fostex, Friedman, Fulltone, Fulltone Custom Shop, Gallien-Krueger, Gibson, Gibson Custom, Godin, Golden Age Project, GoPro, HeadRush, Heritage Audio, iConnectivity, ISP Technologies, iZotope, JHS Pedals, Johnson, Keeley, Kemper, Korg, Kramer, Kurzweil, Kush Audio, LaChapell Audio, Lag Guitars, Lakland, Lewitt Audio Microphones, Lindell Audio, Lucida, Mackie, Manley, Marshall, Martin, Meris, METRIC HALO, Millennia, Milkman Sound, Mojave Audio, Moog, MOTU, Native Instruments, Neumann, Nord, Novation, Orange Amplifiers, Paiste, Pettyjohn Electronics, Phoenix Audio, Primacoustic, PRS, Palatino, QSC, Radial Engineering, Randall, Rane, Reloop, Reverend, RME, Rockett Pedals, Roland, Roland Cloud, Royer, Ruach Music, S.E. Shires, Savannah, se Electronics, Seagull, Sennheiser, Sequential, SERATO, Shure, Slate Digital, Slate Pro Audio, Slate Media Technology, Softube, Soundbrenner, Source Audio, Spector, Squier, Steinberger, Steven Slate Drums, Strandberg, Studiologic, Supro, Suzuki, Taylor, Teenage Engineering, Telefunken, Teletronix, The Loar, Toft Audio Designs, Tone King, Tube-Tech, VHT, Voodoo Lab, Vox, Walrus Audio, Wampler, Warm Audio, WESTONE, Xotic Effects, Yamaha, ZT, Zvex.
About Guitar Center Denton
Visit your local Guitar Center store and get hands-on with the best selection of guitars, basses, drums, keyboards, DJ, live sound and recording, as well as used and vintage gear. We'll get you playing with lessons, and make your instrument play and sound its best with expert repairs and modifications. We also rent instruments and equipment, so you're ready for any event. Visit your local store today and we'll help you find your sound.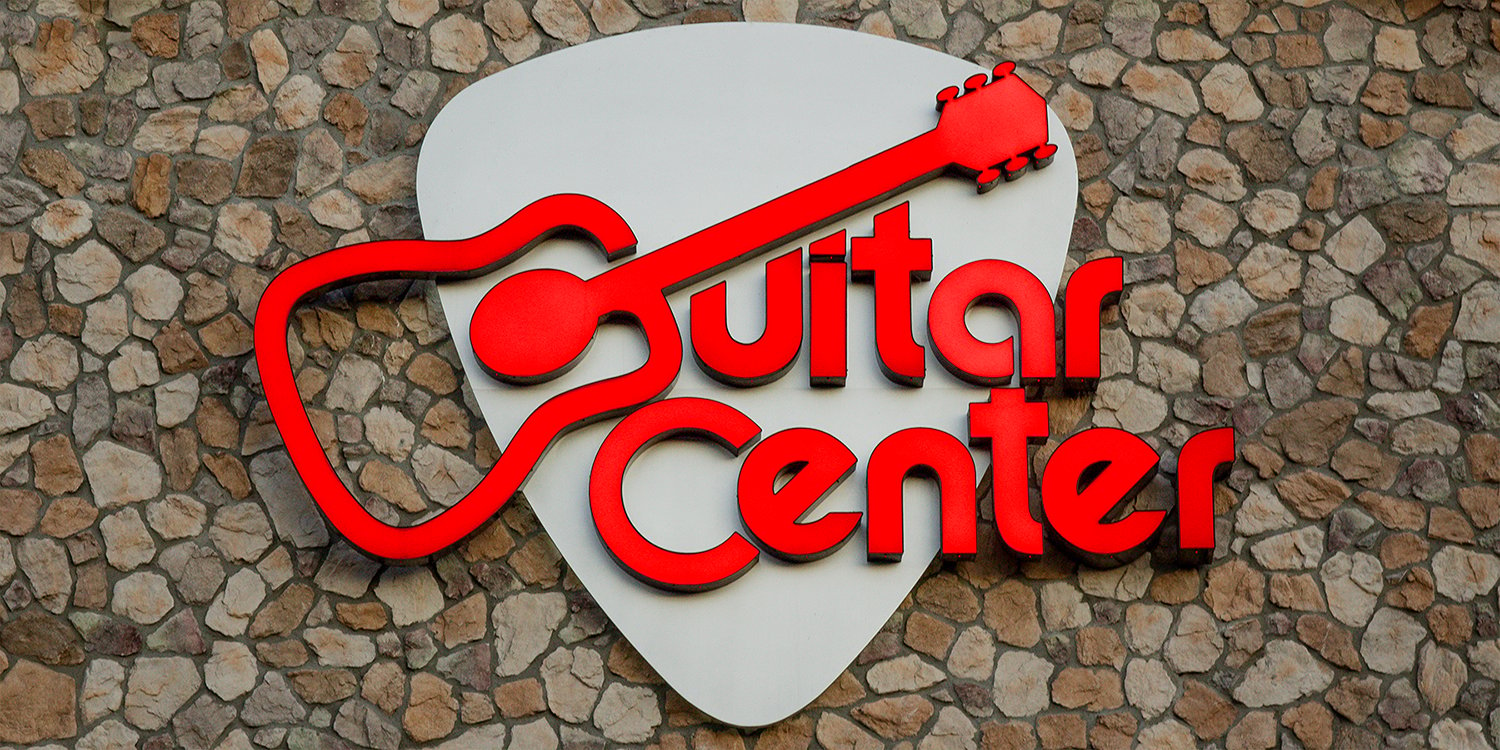 Top Brands at Guitar Center Denton
Nearby Stores